Highlights (tourist attractions)
Jikoji Temple and Cedar Avenue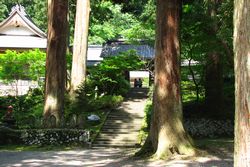 Nestled at the base of Mt. Haku is Jikoji Temple, the path leading up to it lined on both sides by cedar trees for 500 meters. The trees are thought to be between 300 and 500 years old, giving visitors a deep sense of the temple's long history. In 1975, Niigata Prefecture designated the cedar avenue at Jikoji a national monument.
Jikoji Temple is said to have been restored and resurrected around 1403 (the beginning of the Muromachi period) by a high-ranking Zen monk called Ketsudo Nosho, who was a direct descendant of the famed samurai Kusunoki Masashige. Several centuries later, Jikoji prospered as one of the four training centers in the Zen sect in the Echigo region. The temple still attracts numerous pilgrims to this day.
Sakihana hot springs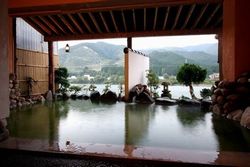 Sakihana ("blooming flower") hot spring is said to have gotten its name for the flower-like sulfur deposits that are said to have formed there long ago. The area is blessed with abundant flow, its emerald green waters known to beautify the skin.
A fireworks festival is held at the Sakihana hot springs every year during early summer, where fireworks are actually set off from underwater, exploding into multicolored semicircles and creating a magical scene on the gorgeous surface of the Agano River.
Other hot springs open to the public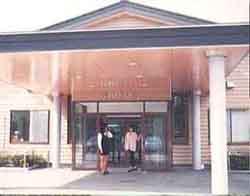 When you're ready to take a break from the hustle and bustle of daily life, make a visit to Sakurando Hot Spring. The facility has a cafeteria where you can enjoy some of the region's famed carp dishes.
Another hot spring open to the public is the Maoroshi Health Center. The locals built this place in the hopes that it would bring more richness and health to their lives. It has both bright, relaxing bathing areas and individual bathing rooms. There's also an eatery offering seasonal cuisine and a kitchen where you can cook your own food by bringing in ingredients.
Thirty thousand white fairies in Mizubasho Park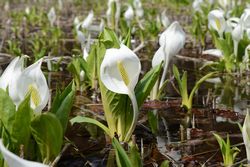 Mizubasho Park is located in the southeastern part of Gosen, at the foot of Mt. Sugana. This is the Koya area, a swampy region that has long been known for its wild mizubasho, or skunk cabbage flowers. The park has wooden pathways that are open to anyone wanting to take a stroll. The best time to see the skunk cabbage in Gosen is between late March and early April, when the pure white flower casings bloom in unison to create a magical sight you don't want to miss.
Muramatsu Park, one of the top 100 cherry blossom sites in Japan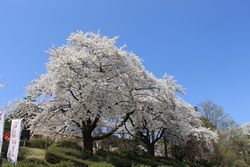 Muramatsu Park has been selected as one of the top 100 best places for cherry blossoms in Japan. Some three thousand cherry trees bloom here each spring, 90% of them the famed Somei-Yoshino variety. There is also a rare type of cherry here known as the Hozaki-Higan Yae varietal. In April, the park hosts the Muramatsu Park Cherry Festival, attracting numerous visitors. The trees are also lit up at night during cherry season, giving people a chance to enjoy them in a completely different way.
In autumn, the cherry and maple leaves turn red, offering yet another chance to enjoy their seasonally changing beauty.
Oyamada Higan Cherry Forest, a nationally designated natural monument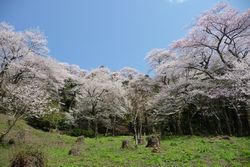 This grove of some 250 Higan cherry trees stretches from the middle of Suganadake's western slopes up down to its base. The mountain, whose nickname means "cherry viewing mountain" features hiking trails as well.
Carpets of flowers in the tulip fields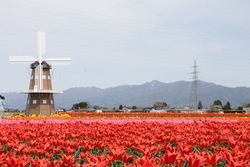 Gosen is home to a lively tulip bulb farming industry. Tulip activities are concentrated in the Sumimoto area, which also holds a tulip festival every year.
The tulip fields here stretch out for nearly three hectares and are covered in 1.5 million tulips of various colors. Walking through them feels like something straight out of a fairytale. The tulip festival here also features numerous local specialty products for sale.
King's pride peonies at 100-Variety Peony Botanical Garden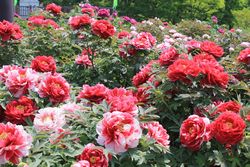 100-Variety Peony Botanical Garden is part of Eastern Public Park in the Akomi region. The park showcases samples of the vast number of peonies grown in the Sumoto area, which is one of the top two peony production areas in Japan. Some 5,000 peonies in 120 varieties bloom here each May, when the Kaboku Matsuri, or flowering plant festival, is held. On the day of the festival, you can also buy local specialty products on site—including peony seedlings.
Oogonno-Sato (Golden Village)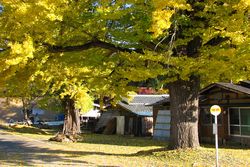 The Hiruno area is home to nearly a hundred huge ginkgo trees thought to be between 200 and 600 years old, and is renowned as the production site for top-quality ginkgo nuts. The gold leaves of the gingko trees gleam in bright gold on clear autumn days, inspiring the area's nickname Oogonno-Sato, which means "Golden Village." Heartwarming pastoral vistas against the grand backdrop of Mt. Haku are one of the classic autumn scenes in this region.
Oogonnno-Sato Hall, located at the foot of Mt. Haku, offers handmade buckwheat noodles made with local flour and Mugikiri, along with opportunities to purchase Gosen specialty goods.
A Muramatsu clan castle town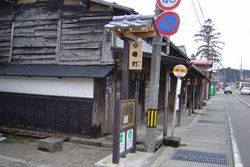 The Muramatsu clan was a 30,000 stone prosperous castle town during the Edo period. It consisted of Nanatani (modern-day Kamo City), Shitada (modern-day Sanjo City), and part of Mitsuke City. The Hori family ruled over the Muramatsu clan for 227 years, protecting its territory for generations—starting at the end of the Edo shogunate and continuing on until the clan system was abolished.
The Jokamachi area, whose name literally means "town below the castle," is said to have been designed with aesthetics in mind. The streets feature winding canals and pathways that incorporate natural barriers separating the districts belonging to the commoners and the samurai families. Also, because the samurai families did not want the townsfolk or people from other clans intruding into their area, they created boundary roads and maze-like pathways to keep them out. Finally, to protect the palace from being attacked, they avoided long, straight roads and four-part intersections that offered high visibility, instead joining roads off-center with T-shaped and L-shaped junctions. The castle town grew into an urban area as it spread, driven by major fires, the Boshin War, and other changes of the time. Still, the area is still deeply colored by its past as a "castle town."
The Muramatsu Local Museum is built in Joseki Park near the ruins of Muramatsu Castle. There, you can see a model of the old castle plus samurai armor and historical documents connected to the Muramatsu clan and its ruling family, the Hori clan. The museum houses and displays a wide variety of artifacts that reveal Muramatsu's history, culture, industry, and more.
Suganadake and Okura mountains, the source of crystal-clear water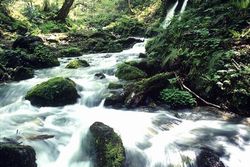 The harmonious interaction between unspoiled beech tree forests some 300 years old and pure water bubbling up from the cracks in massive boulders is a beautiful sight to behold throughout the changing seasons. There are crystal-clear springs in many spots all the way down to the base of Suganadake and Okurayama, but two of the most famous are the Doppara Shimizu and Yoshimizu springs. The water from Doppara Shimizu is used to make sake, and people from all over Japan come to participate in a Kanku No Mizukumi water-drawing event that takes place in January of each year. The area around the Yoshimizu spring and collection point has also become a nationwide tourist attraction.
Mountain views at Gosen

The mountains that surround Gosen—Suganadake, Mt. Okura, Mt. Haku, Mt. Kiroku, Mt. Ginjiro, Mt. Gintaro, and more—are a stunning sight in every season. You might even catch a glimpse of some of the many birds and other forms of wildlife that pass through these areas throughout the year. Numerous hikers also visit their slopes each year.
The legend of the faithful dog Tama-ko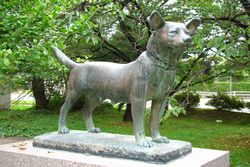 The legend of the faithful dog Tama-ko is a heartwarming story known throughout Japan. Tama-ko lived his life in the Kawachi area, surrounded by natural beauty and stunning mountain views.
In February 1934, Tama-ko's owner, Mr. Karita, went on an everyday hunting trip with a friend and took Tama-ko along. Unfortunately, however, the two men were caught in an avalanche that day. The dog was able to swiftly avoid the avalanche, and began frantically digging in the snow until his paws were stained in blood, eventually rescuing Mr. Karita. Two years later, in 1936, he was again trapped in an avalanche with his owner—and again Tama-ko saved Mr. Karita and his friend. Tama-ko became famous throughout Japan as a dog who had saved his owner's life not once, but twice. The legend of Tama-ko even spread to the US as well.
Today, bronze statues of Tama-ko have been erected at Atago Elementary School, Muramatsu Park, Niigata Station, and Hakusan Park. There is also a monument and statue dedicated to Tama-ko in Kinugasayama Park, which is located in Yokosuka City, Kanagawa Prefecture. Yokosuka City holds an exchange event with Gosen every year during cherry blossom season, and the festival includes a memorial service for Tama-ko.
Tama-ko's brave, kind spirit lives on in the hearts of the people of Niigata to this day.
この記事に関するお問い合わせ先

五泉市役所 企画政策課

郵便番号959-1692
新潟県五泉市太田1094番地1
電話番号:0250-43-3911(代表) ファックス:0250-42-5151
最終更新日:2020年05月12日